The Piña Colada. The warmer months are about to arrive, and nothing is better than slurp-tastic frozen goodness.
Now, again it should be obvious that if you are not into alcohol, you can leave out the rum on this one and just enjoy a bunch of frozen goodness.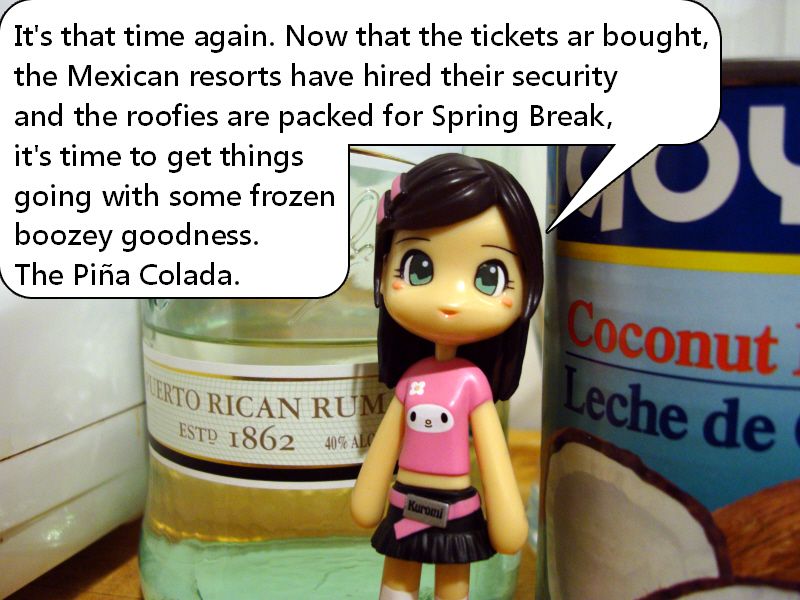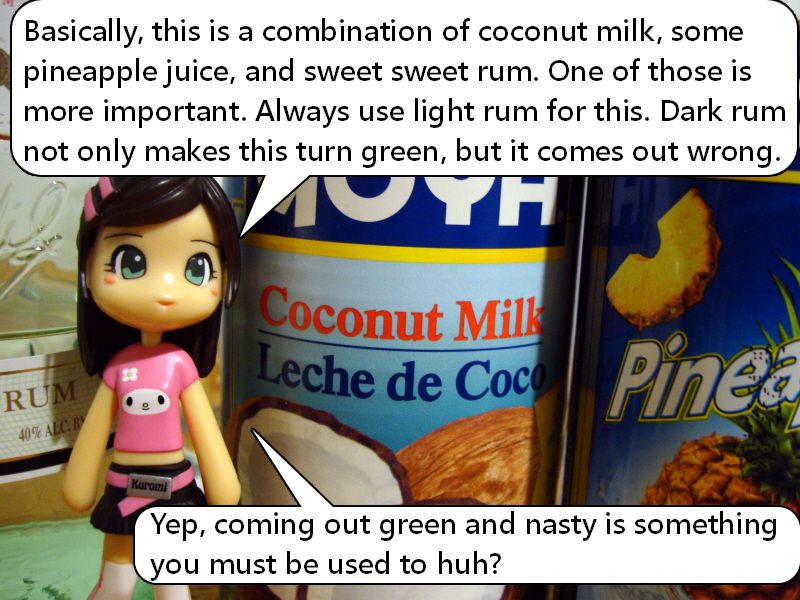 We can't stress this enough, but dark rum, spiced rum, or añejo rum should NOT be used here. You want clear rum for this drink. While darker rums are great for certain things, they really just produce sour notes in this finished drink. And yes, a black rum in this will end up turning it a nasty green tint.
For non-rum versions. You can use vodka or infused vodka for this and it would be called a chi-chi. If you skip booze altogether, you will probably want to add an ounce of sugar syrup, which helps kick up the sweetness.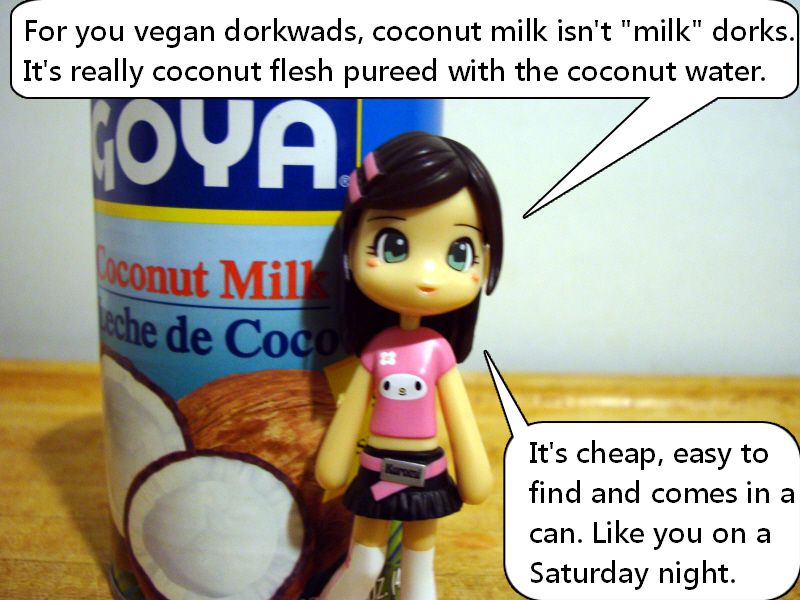 Yep, this drink is vegan. We try to make everything as un-vegan as possible, so we're probably just going to add some animal product of some kind just to make that happen.
Coconut milk is a bit high in saturated fats, so this isn't for every-day use. But, it's some really good stuff.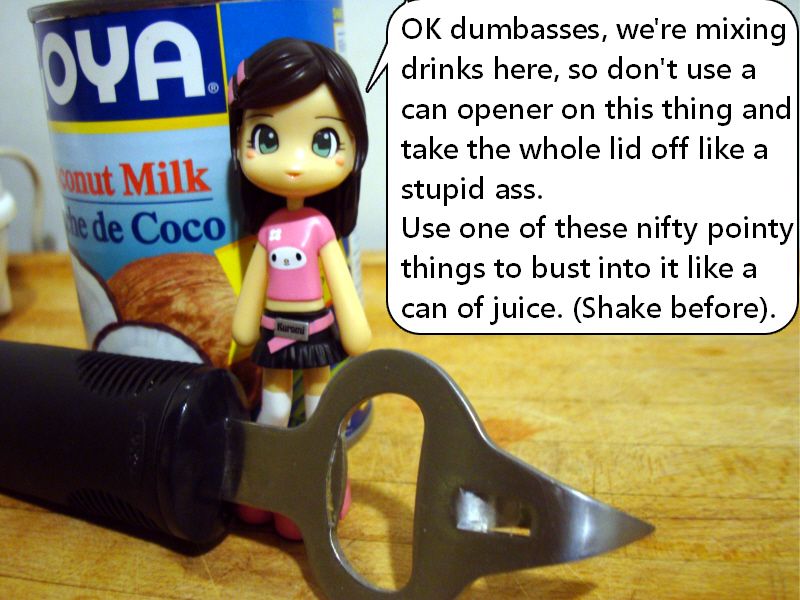 Shake the can before you open it. The fats and the waters in coconut milk can often separate when they are left still on the shelf. A good shake until you can hear everything sloshing around in there will ensure that you get the proper consistency when you pour this stuff out.
The pineapple juice doesn't need it, but believe it or not, the amount of fats in coconut milk are not sufficient to prevent it from freezing up rock-hard. This is bad news since the blender will make quick work of the juice while the coconut milk just whizzes around in there like little boulders. Adding a drop or seven of rum, vodka, or almond extract, will help to prevent the super-freezing. If you end up with over-frozen pieces anyway, put them in a plastic bag and whack them with a meat mallet.
Alternately, if you have an ice-cream maker, you can just pour everything in there and not worry about needing a blender at all.
Warm blender = faster melting.
You'll notice that the color of this isn't the over-white color of what you normally see and there are 2 reasons for that.
#1) We like it with more pineapple than most recipes call for. Because we just fucking do.
#2) We have not used any water ice in this drink. Water ice, when smashed into little crystals becomes opaque white (that's why snow looks like it does). Without that, the colors of the other ingredients are more pronounced.
Swap out the pineapple juice and use mango instead, and it's a
nice variation of this drink
.
Here at Pinky Mixology, we pretty much hate
flags and garnishes
. They get in the way of pouring this boozey goodness down your gullet. Because of that, you will rarely see them here.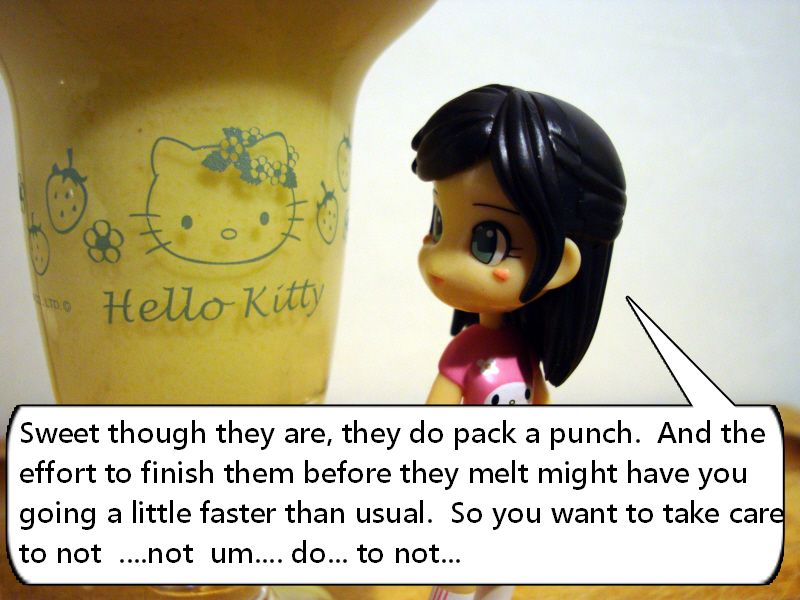 Too many Pina Colada can lead to a few Penis Coladas later on.
And that's that.
Next up, BACON BOURBON

!