The Manhattan. Nothing says roaring 20's like this rye whiskey based glass full of awesome. Invented over a century ago in the 18whoknowswhatsit's, it splendor in a glass. Despite its injection into the douche-bag
universe of wanna-be

Mad Men

idiot hipsters
, and being the last vestige of a few old racist grandparents out there who still listen to The Rat Pack on am radio, this is still a drink that should be ok to be seen in public with. But on the occasion that you wish to have 1 (or 7) at home, and hopefully share them with friends, here is how to make sure you pull it off correctly.
Time for grown up drinking boys and girls.
Recommended Rye Whiskeys include
Manhattan Rye
from
Tuthilltown Spirits
(pictured above), also
(ri)1 rye
which has been taken over by
Jim Beam
, and if you're on a budget there's the slightly less expensive
Bulleit
and the even cheaper
Wild Turkey
which is probably the most widely available.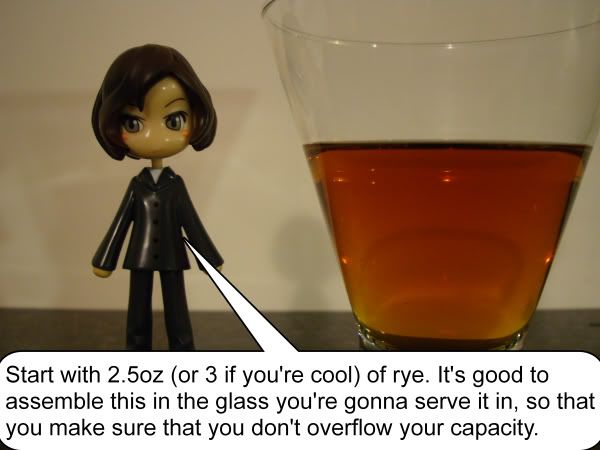 What you see is 2 shot glasses full with a little bit of overflow. Normally you'd keep the glass chilled, but to avoid condensation which would block the view here, so we're gonna not do that. Remember kids; Don't do what Donny Don't does.
Now it goes without saying that a cheap vermouth like
Cinzano
, or
Martini & Rossi
is more or less gonna ruin this.
Dolin
is the standard go-to for a good Manhattan. Although
Punt e Mes
is not really a "
true
"
rosso
Vermouth and thus the end result is not a "
true
" Manhattan, it's actually our preferred additive here at
Pinky Mixology
when making these (it's even awesome by itself). So don't get that wrong, according to our personal tastes, we love nothing better than
Punt e Mes
, but we are making a true Manhattan here, so we'll be using a true vermouth. We're not gonna say which one because we don't want to get anyone in trouble.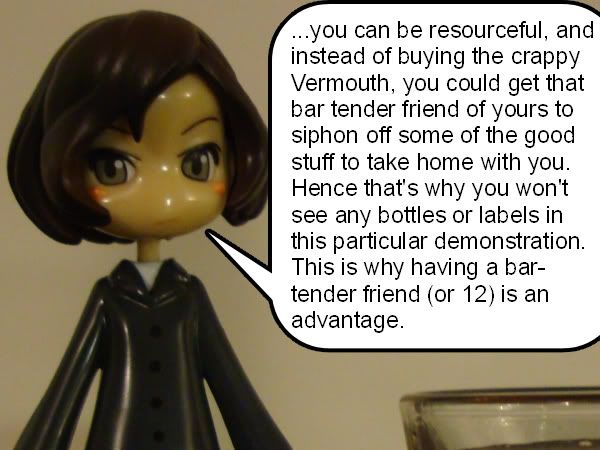 The problem is that good Vermouth costs a bit more and usually doesn't come in a small bottle. We understand that not everyone out there is going to be prepared to have so much vermouth around. So you can be stuck with a high quality bottle of Vermouth which you've opened and now the rest of it is fast on its way to getting old and going bad (yes it is very possible for Vermouth to go bad, but you can use this opportunity to turn yourself into a Vermouth fan). The cheap crap comes in small bottles... but it's cheap crap more suited for cooking shrimp than drinking. So if you know a bar-tender at a place that has a high turnover of the good stuff, then maybe they'll pour some off for you to-go. (Or you can get some out by ordering a glass of it and sneaking it out in a sports bottle or something).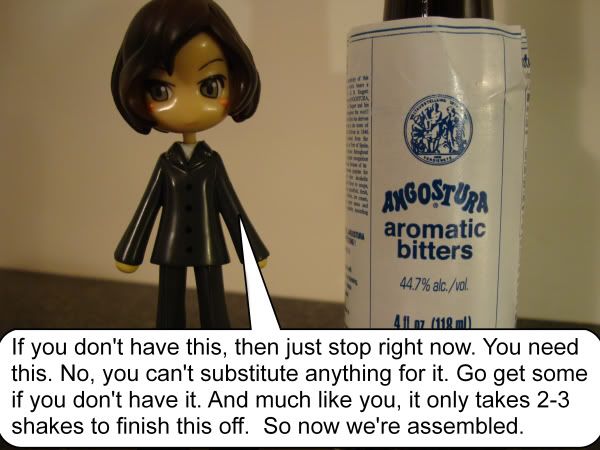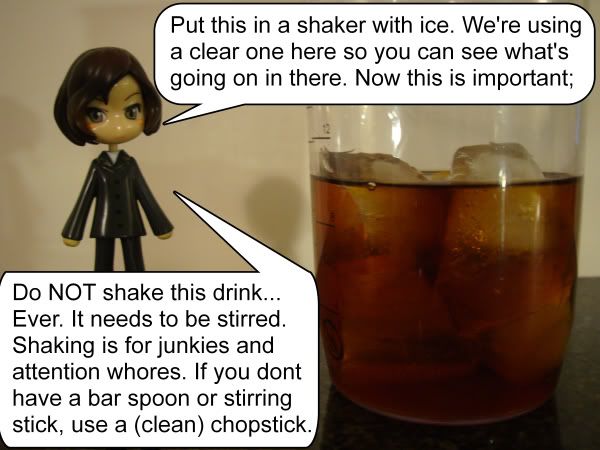 You
NEVER
shake a Manhattan. If you are someplace and they do this, then just get up and leave immediately. You never shake any drink with clear ingredients and this goes for martinis too (though you can slosh them a bit harder than a Manhattan). There's a reason that 007 had to stipulate "
shaken, not stirred
" in the movies, and that's because no one in their right mind who knew what they were doing would
ever
ask for that (it was a way for a spy to identify himself to his handler w/o telling the whole room who he was).
Seriously, I don't know why they put these cherries in there. I never eat them, but they instantly identify what you're drinking.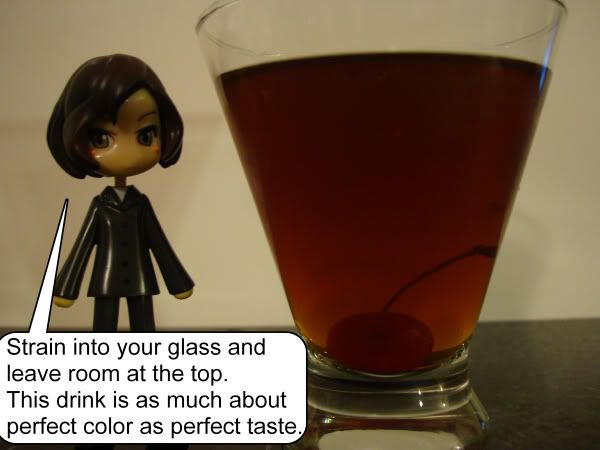 That's not photoshop, that's actually the color of how it looks. Cool right?
Seriously, the only thing that's gonna happen if you fill a
cocktail glass
to the very top is that some of the drink will spill,
stemmed
glass or
not
, just leave a little room. You can go make another if you're that desperate for more booze.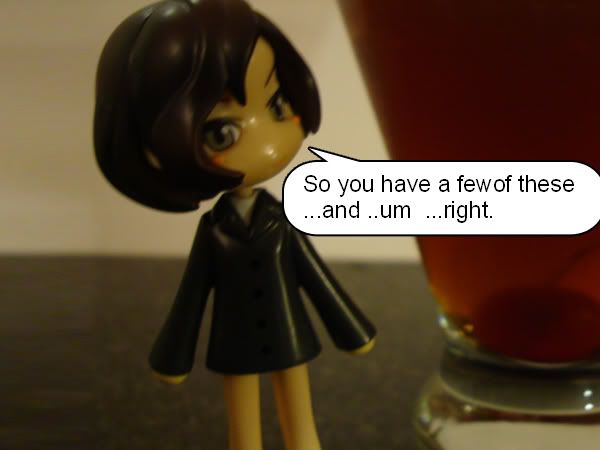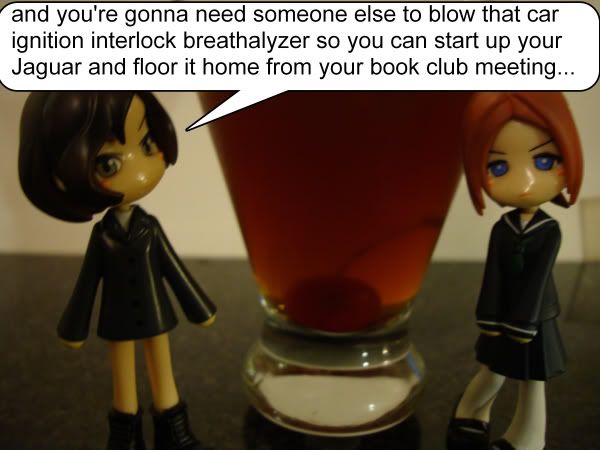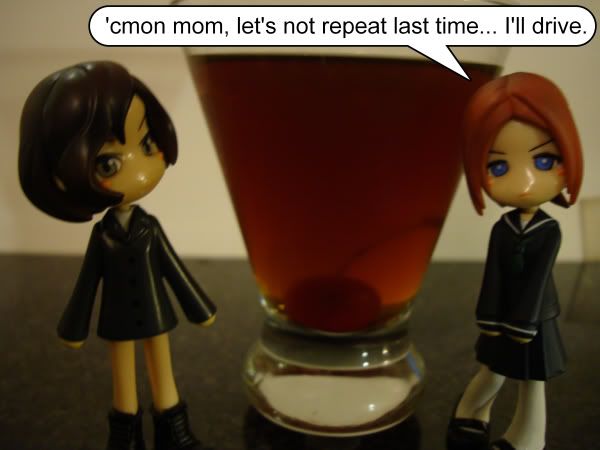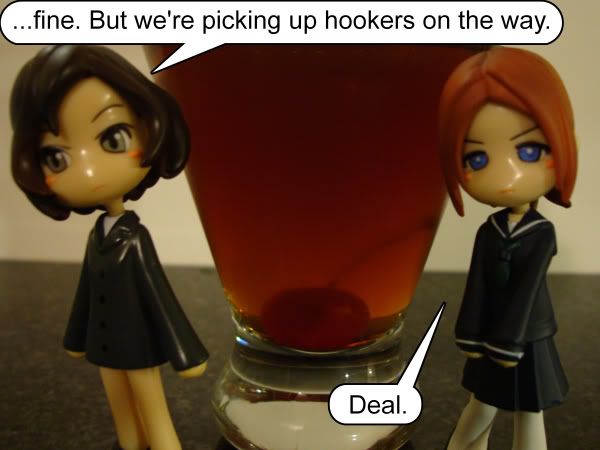 The Manhattan.
Next time:
Yo mama.