While Applejack is unique and somewhat rare, there exist many an apple inspired libation worthy of consumption. No not the green jolly-rancher concoctions that end in the suffix "-tini" but actual distilled spirits made from apples.
Here we have Half Moon Orchard Gin, and Indigenous Vodka from Tuthilltown Spirits. Not exactly an easy name... Tu-thill-town ...right? (Watch the video on youtube). Anyway, it's right here in the great state of New York, and we are a big fan of their Baby Bourbon, their Rye Whiskey, and their un-aged Corn-Water (we call it corn-water anyway). Unlike other un-aged white whiskeys, the one from Tuthilltown ...toothlytown, toon-town... whatever, the one from these guys is un-comparable. It is actually smooth. No we're serious, check it out.
But that's not why we're here. We're here because of apples. ...So what can they do with apples that's not Applejack? Let's find out:
To be honest, we didn't know what to expect, but the yin-yang of the vodka we just think is a bit off. It brought good stuff to the table, but for ever 1 part of good it brought 1 part of kinda "meh" to it as well. This was tested under extremely harsh conditions though. Neat at room temp, and then in a dry martini. These are very unforgiving tasting environments for any clear spirit, and they deliberately leave a wide open door for any qualities (good or bad) to be exposed. I'm sure they've already tried every number of distillations and ratios of apples to other sugars in the fermentation, but in our honest opinion, it just seems a bit off. But that's doesn't mean it's bad. There are some combinations that we see working well, like a fizz made with Sidral Mundet.

*Additional: We actually did make a Sidral Mundet fizz and it turned out great. See it here. ...We're still working on a name for it.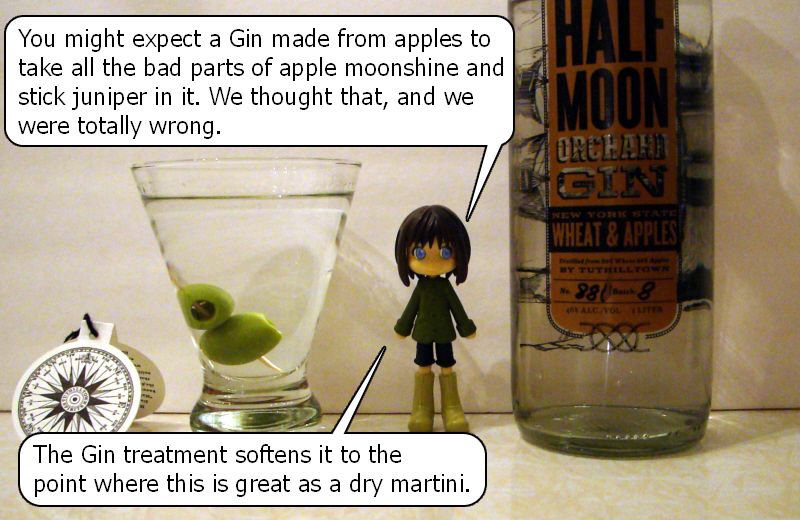 We were totally expecting weirdness from an apple-distilled Gin. Would you mix Gin with apple anything? No probably not, so why would this be good? Because it FUCKING IS. Any harshness that the Vodka carried is nicely muted by the infusion of the herbal ingredients used in Half Moon Orchard Gin. This is a very good Gin because it strays from the path but it doesn't suck as a gin itself. We could easily see this in any gin cocktail, except maybe the Yankee Rose (the rose-water is fragile and this might apple it out of the way). Is that making sense, we're not sure... We only had the one drink since we're dead-set on saving this for its own episode, yeah that's how good this stuff is. It was a very nice surprise and like we said, not in a bad way.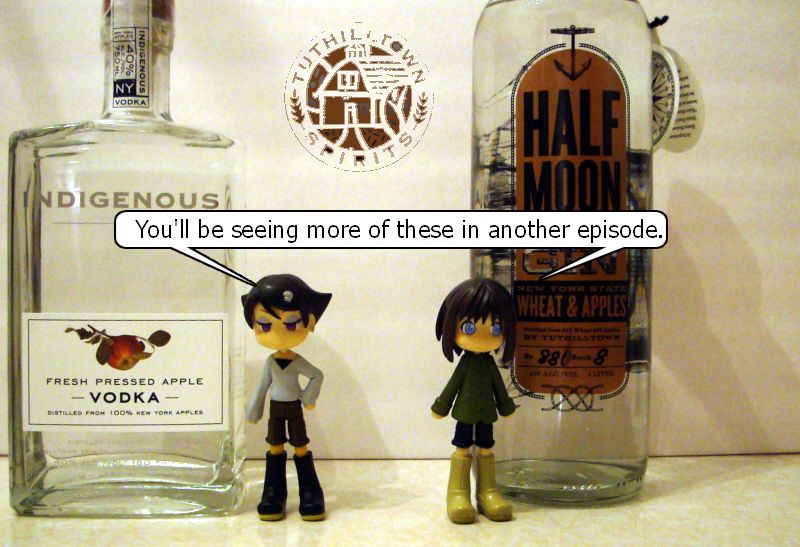 Next up is another Applejack Label.