This article is appropriate for all ages.
Made famous by... somebody, The Shirley Temple is a non-alcoholic drink that your little cousins can gulp down at family weddings so that they can look like the big people. They are often so very sweet, that they can even be off-putting to adults, and Shirley Temple herself has said she hated the things. But, to each their own, and so we are going to give this one a shot.

You will need:
Homemade Grenadine: Remember no HFCS. It's not like our homemade stuff had any less calories, but HFCS just sucks for cocktails, or in this case mocktails.
Ginger Ale / Ginger Beer: We are using Ithaca brand ginger beer, because it's got great carbonation and great taste. Also because we always give favor to the home team here in New York (even if it is that "state" part and not the city).
Lemon-Lime soda

: While we're not using it here, most recipes will combine ginger ale and something like 7up in this. We can't really figure out why, so we left it out, but we recommend Green River sodas for that.
Orange Blossom Water: This is optional as well, and it gives this drink a mild bitter tang to it, which children may find strange but adults who don't like over-sweet tastes will welcome. We will be using the easy to find (and totally worth having in your house) Alwadi Orange Blossom Water.
Citrus Juice: We are using bai5 Costa Rica Clementine beverage, but traditionally this is made with a splash of orange juice. There is also tangerine juice, mikan juice, or even pineapple juice might work.
Glass with Ice: You can make ice cubes out of juice or tea or other things as well. Just remember that if your tap water tastes bad, then don't use it to make ice for this, otherwise it will just make everything taste bad.
Cherry Garnish: They have that red dye made from those little bugs in the rain forest that you mash up. We don't really care... we'd eat a handful of those bugs like they were Skittles if we thought it would taste good. You don't have to use it.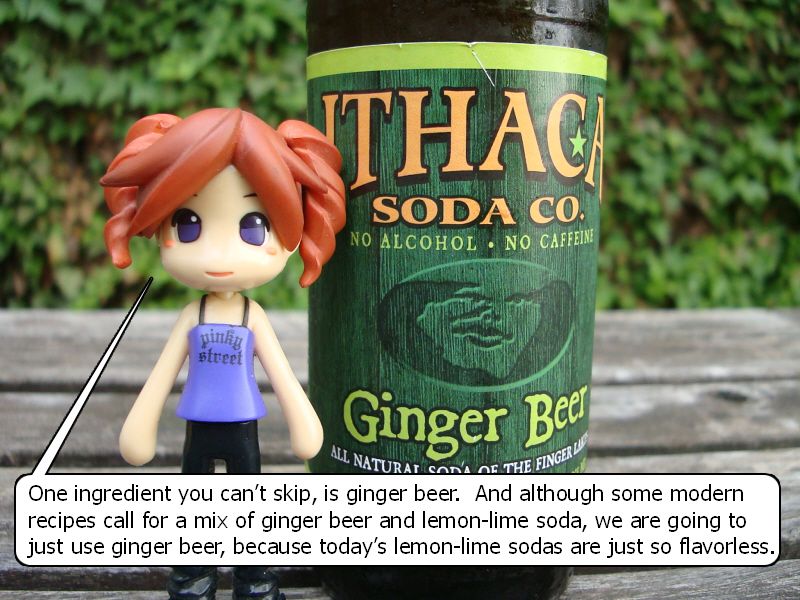 There really is no substitute for a ginger soda made with real ginger, and Ithaca brings it to the table. Not as dry and burn-tastic as some of the heavy Caribbean stuff, but not muted like Q or Fever Tree either. The use of real sugar and glass bottles helps keep the carbonation up to snuff for any mixing you may have planned. They come 4 to a pack and we have to admit, we used one for this demo and then just straight up drank the rest because they were quite good.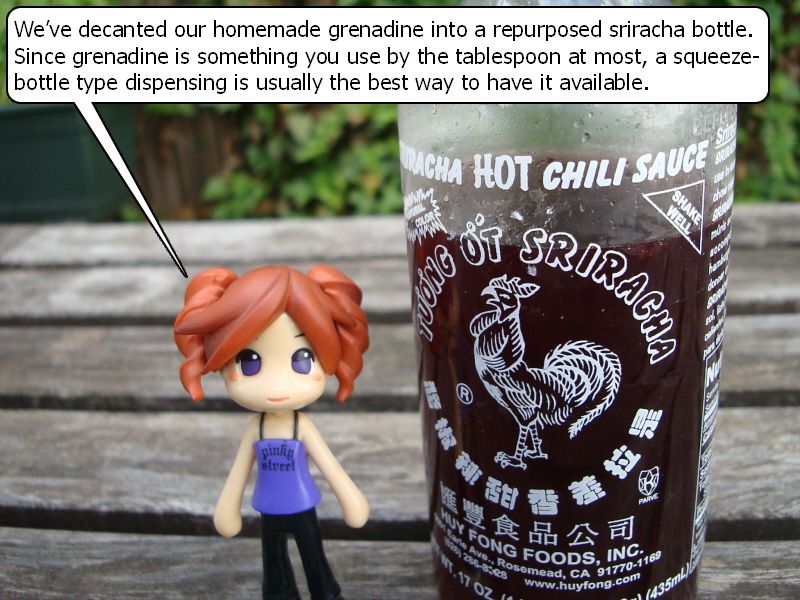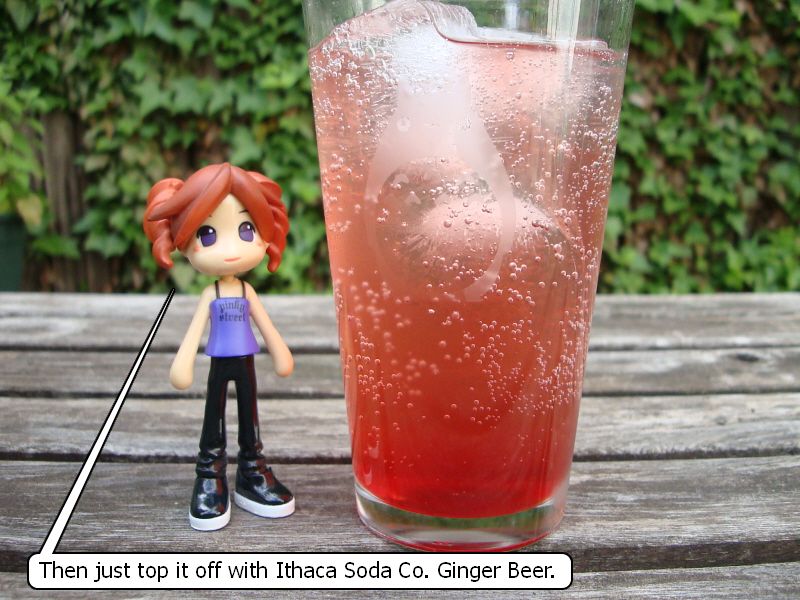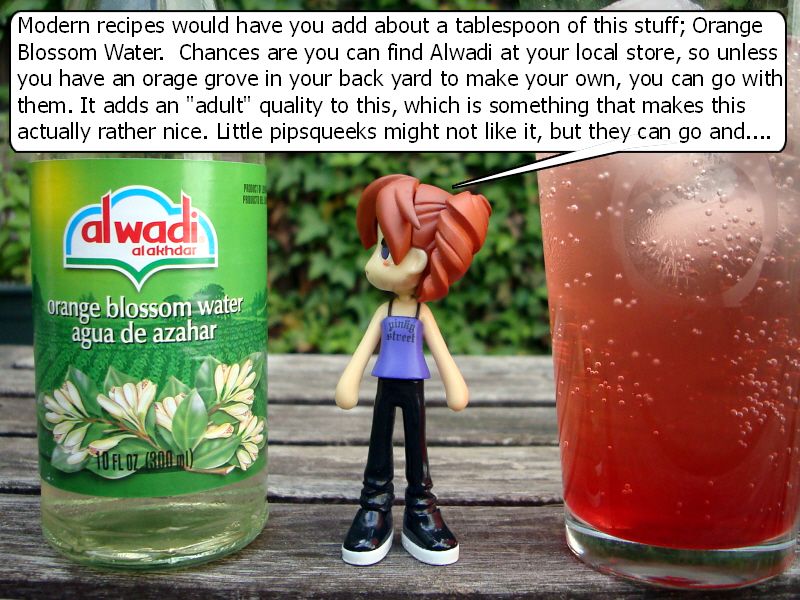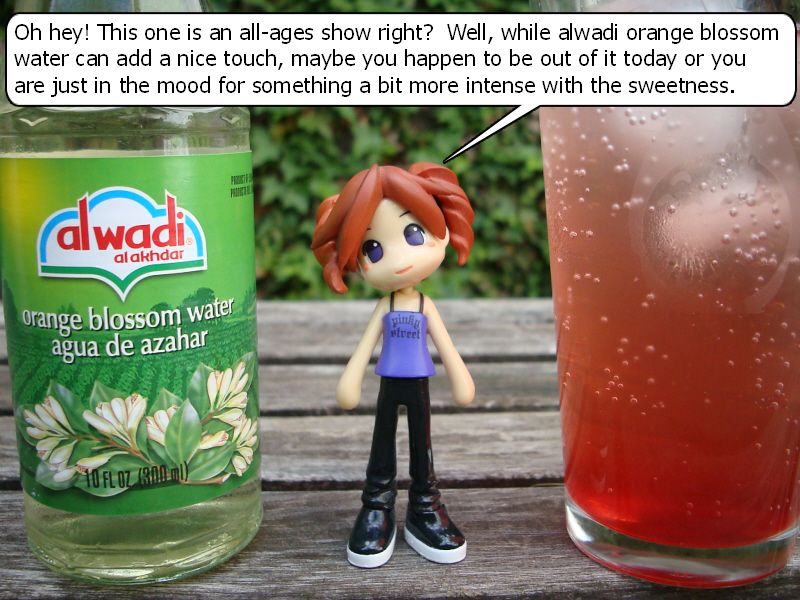 Like their rose water we used in a previous cocktail recipe, the presence of orange blossom water (from Alwadi) is mainly felt via smell. This is where the carbonation of the ginger beer is very important. By carrying those qualities up to your inner smelling-parts, the orange blossom water holds together the sweetness of the grenadine and soda as it spins them together in a tie-die of taste.

While it is possible to make rose water at home apparently, orange blossom water is way out of our league (seriously, where are we gonna find a bunch of orange trees?), so we picked up Alwadi Orange Blossom Water at our local supermarket. You can also buy it online.

If you are not into sweet drinks, this orange blossom version is a good version to try. You can even cut the sugar further by just using club soda instead of ginger beer.
But let's say you're going for the sweeter thing...
VERSION TWO: USING BAI5 COSTA RICA CLEMENTINE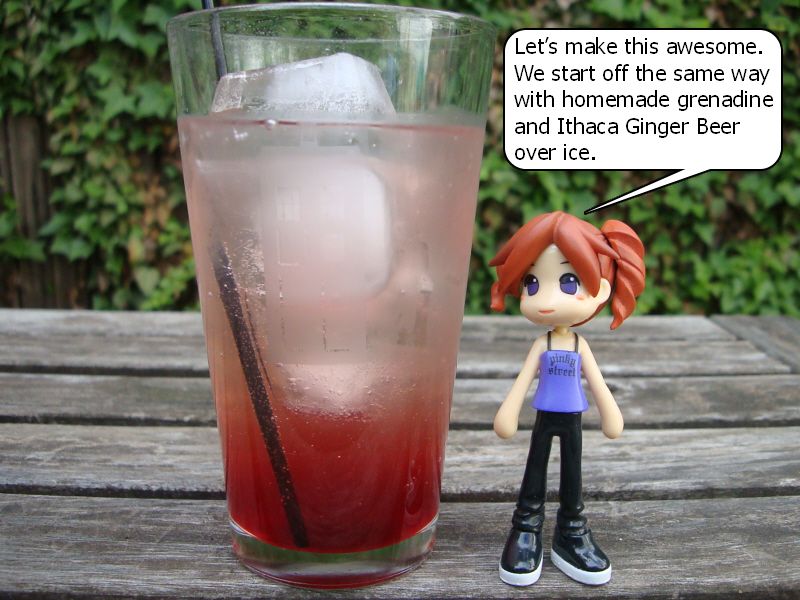 Isn't that just so spiffy?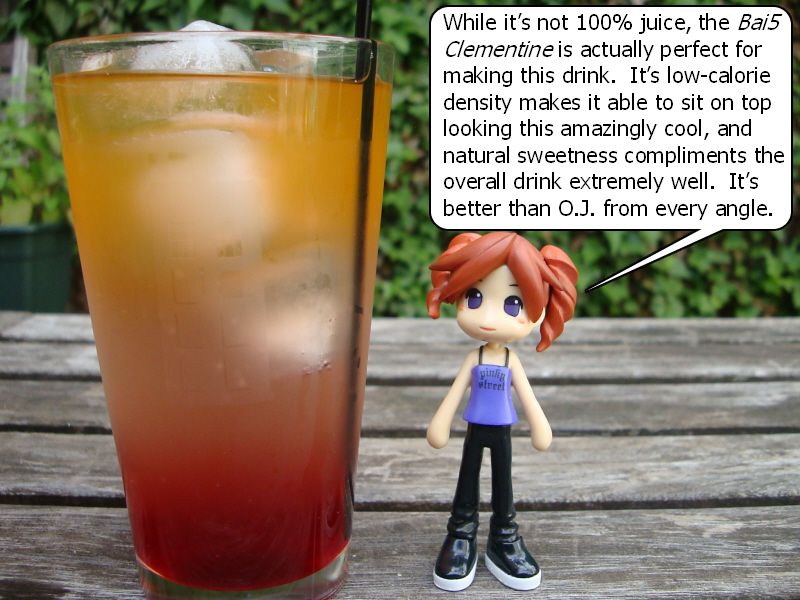 We came across bai5, and it's pretty nice stuff. It's got something of a Capri Sun flashback to your childhood taste quality to it, without all the unhealthy calories. Because of that, it can float on the top of this (if you pour it slowly onto the ice), creating this lovely Rainbow Dash effect.
A little word of warning: While we have been avoiding High Fructose Corn Syrup and other unhealthy additives, these drinks as you see them here are by no means low in calories, almost all of them from refined sugars and natural fructose. That photo above is most likely pushing fast-food levels of caloric intake. So just because they don't have alcohol or hfcs, don't go thinking that these are something you can just start chugging down on a frequent basis with no negative consequences. ...they do really look cool though don't they?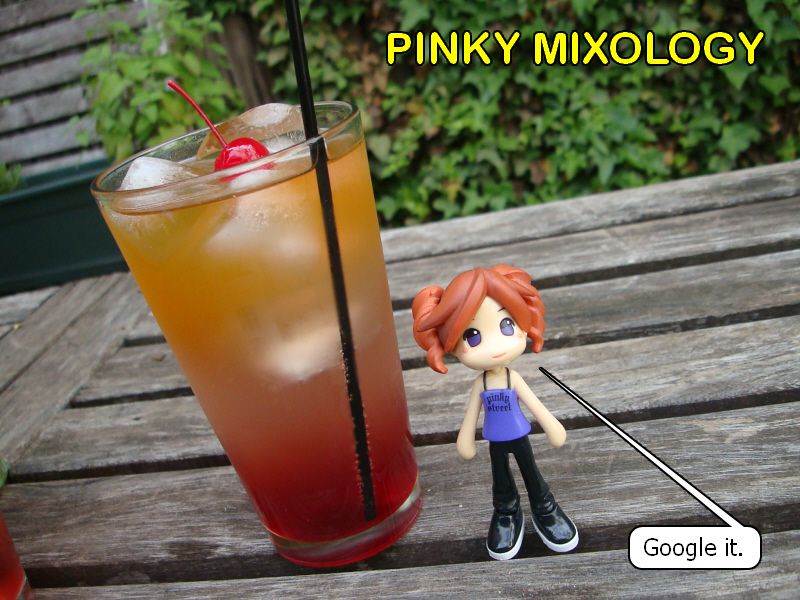 -