OK we're back. We really needed a break. Our contributors moved away, and after going full-throttle on our postings since January, ending up in the ER, getting jerked around in the job market, having to do a bunch of government things, and forcing normalcy to return, we're back on schedule.
There will be a few schedule changes. Our content scheduled for early April will be released in late May, and so we're just going to go with late April and move into May with what we had planned. We would like to thank you all for bearing with us.
Now, on with the show:
A variation on our Bloody Derby, we've created Red Dead Redemption to help you through those mornings (or afternoons) of ringing ears, aching heads, heaving stomachs, and the ever burning question of why did I do that? You know you've been through one of those, and you'll be having a few more before that intervention your friends are gonna give you when this season of Game of Thrones is over.
Red Dead Redemption is named after the exact video game you're thinking of, and so we're going to be keeping bits of wild west in this as much as we can. We're also sending it over to everyone's fave net-a-tacious cocktail blog The Drunken Moogle, since this is something that seems up their alley. We actually wish we could send them more recipes, but it's hard to figure out a way to connect Kill la Kill to a fucking Pimm's Cup or whatever the hell.
What you will need:
Tomato Juice: This one should be obvious. Or you can use whatever similar thing you like in your bloodies ...you wanna go Clamato? Fine go nuts.
Bloody Mix: A few grinds of black pepper, apple cider vinegar, chili powder/chili paste, liquid smoke, wasabi in a tube (it's really just horseradish) and Worcestershire (anything without High Fructose Corn Syrup is ok, and we prefer French's because L&P is a little too unfriendly on the pallet in the quantities we're going to be using... and since we're not working at the moment we're now cheap bastards).
Whiskey: To keep in the spirit of Red Dead Redemption you might be tempted to track down some gut-rotting Redeye, but let's remember you're trying to actually improve your situation, so a nice bourbon is where we land.
Extras: You'll need half a softened/pickled jalapeño sliced up, or (if you've been very naughty) a habanero. The more timid should go with a poblano pepper. You can also skip this step and just add a bit of your favorite hot sauce just before you shake this up. Remember this is not about burning your face off, just getting enough heat to sooth that grossness of the hangover you're feeling.
Hardware: 32oz Mason Jar with lid. It's nice to be able to drink the thing out of the same thing you shake it in). Muddler. If you do use any peppers in this, you'll need this to bash them up into mush.
Ice. This should be obvious too, but you should have plenty of ice laying around to use in this.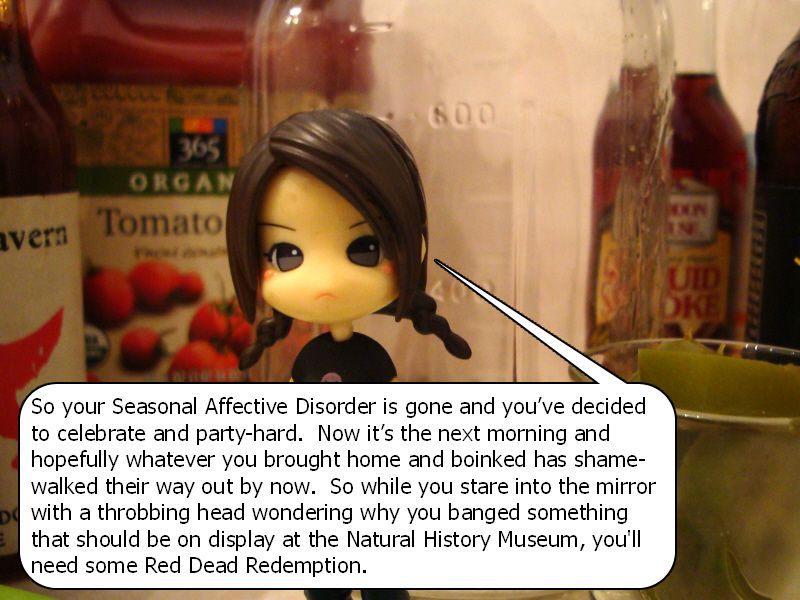 The "heat" comes from the seeds and the whitish veins inside the pepper. You can slice them out before you marinate them if you want, but we're going all-out here and leaving everything in.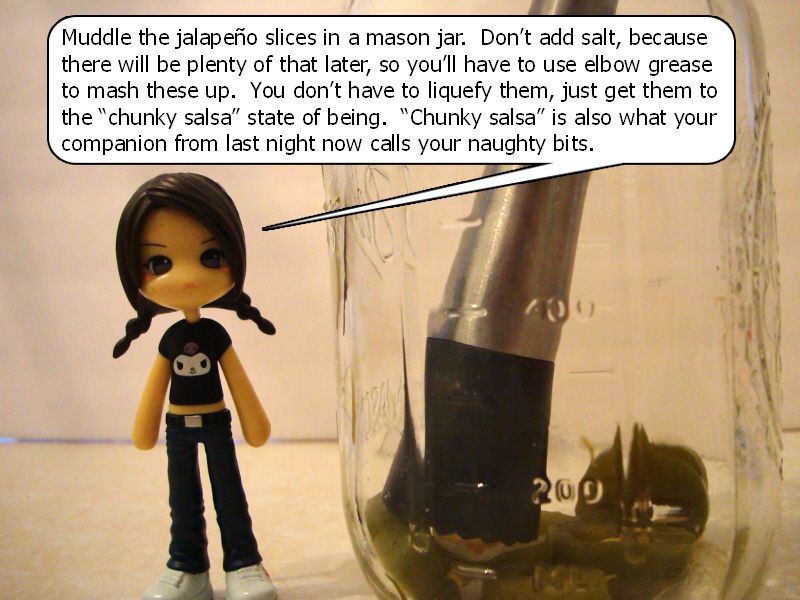 This is the Arctic Chill Muddler at work. It has a toothed head which makes it great for mashing things up like this.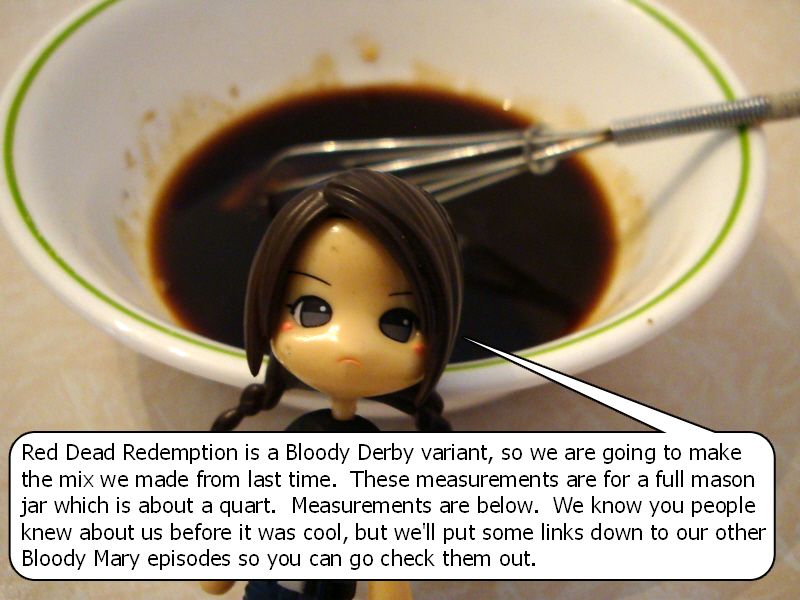 Our original Bloody Mary mix can be found here.
Bloody Spice Mix:
We usually don't give out measurements but we'd be screwing you if we didn't give any in this case. So, when making the full-size 32oz monster version of this drink:
4 Tablespoons Worcestershire sauce.
2 Tablespoon cider vinegar.
1 (maybe 1.5) Tea-spoon of tube-wasabi or horseradish.
0.5 Tea-spoon of chili powder (or chili paste... some places have it).
Between 0.25 and 0.5 teaspoon liquid smoke (brands differ in their strength and vary widely).
Mix all this stuff together with a whisk or fork until it's all combined and let it sit until the dried chili powder gets to absorb some moisture. The goal is to reach the 4oz line on the jar (the lowest line).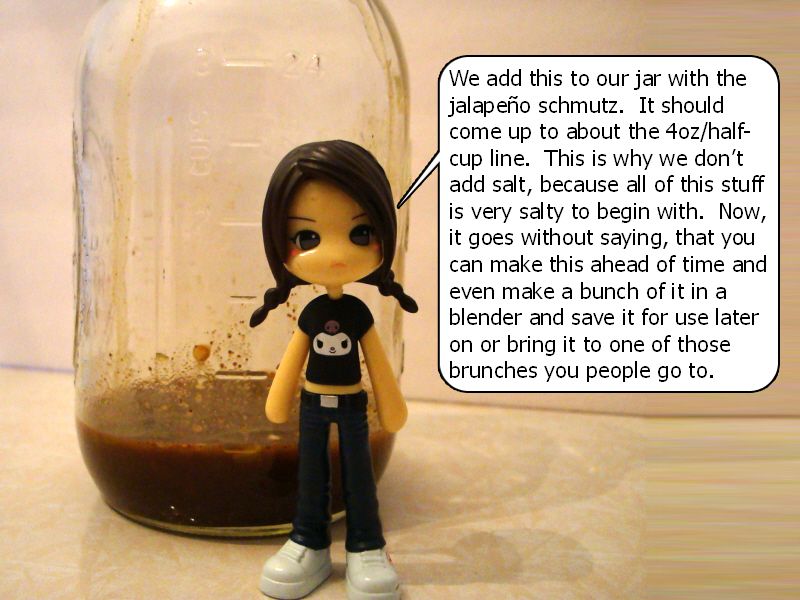 Mixing it up at this point would just be to see what the overall color was going to be.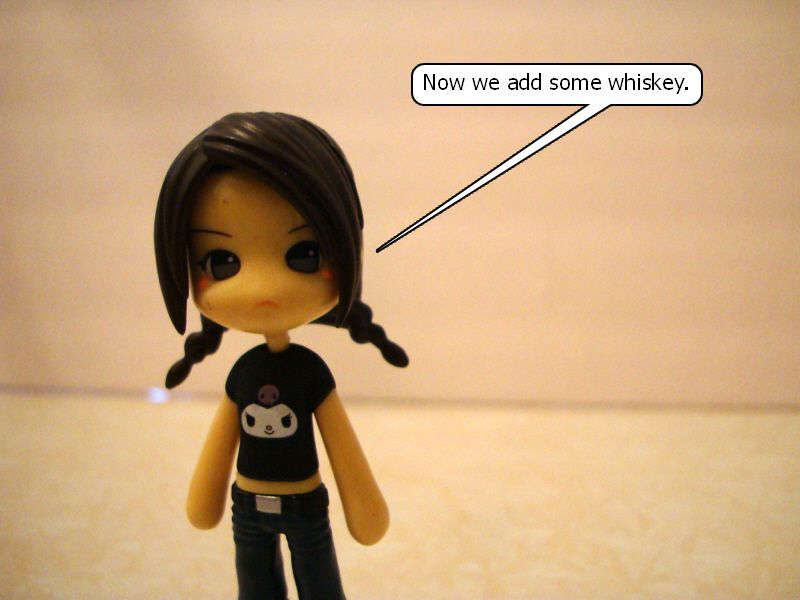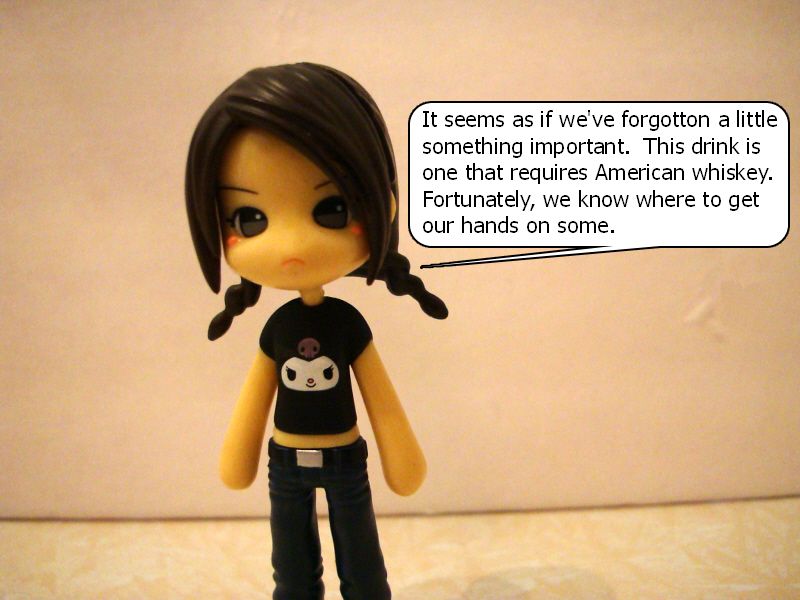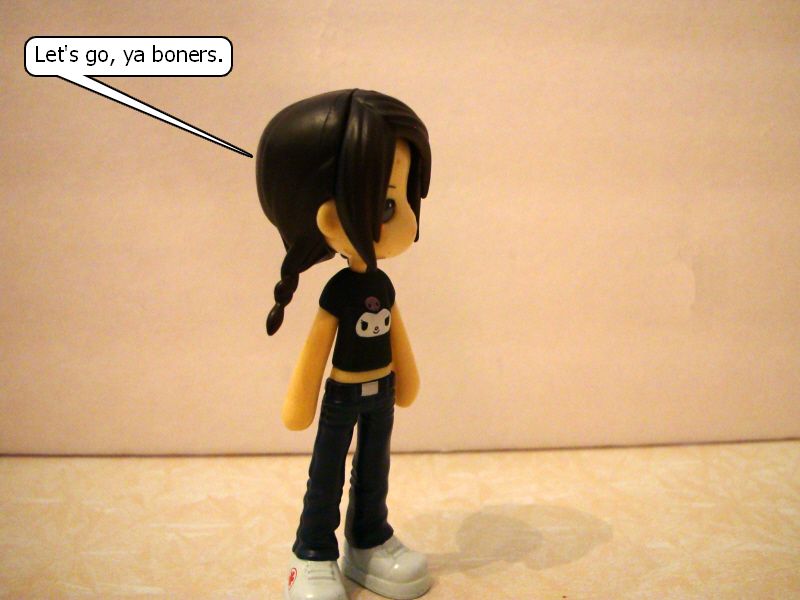 One day we noticed that all of a sudden there were whiskey distillers all over the place. So we went out and found the best one and asked them if they wanted to play with us.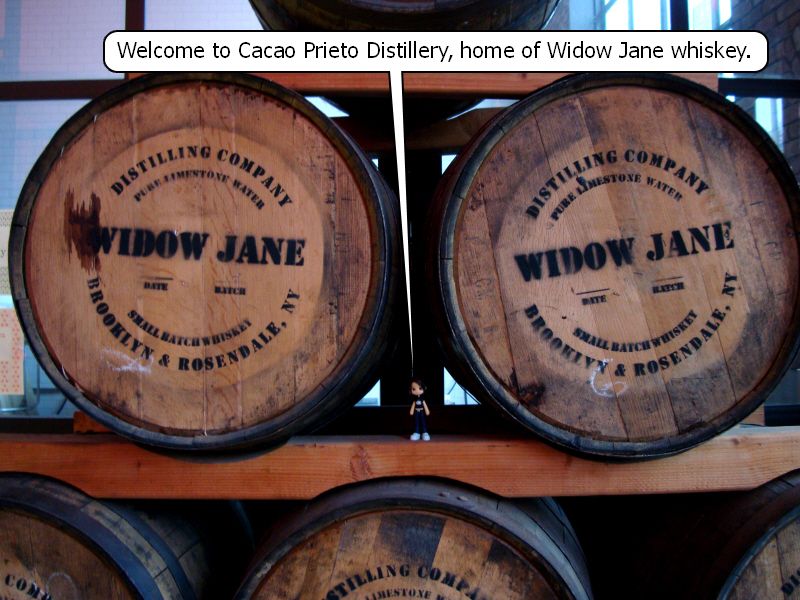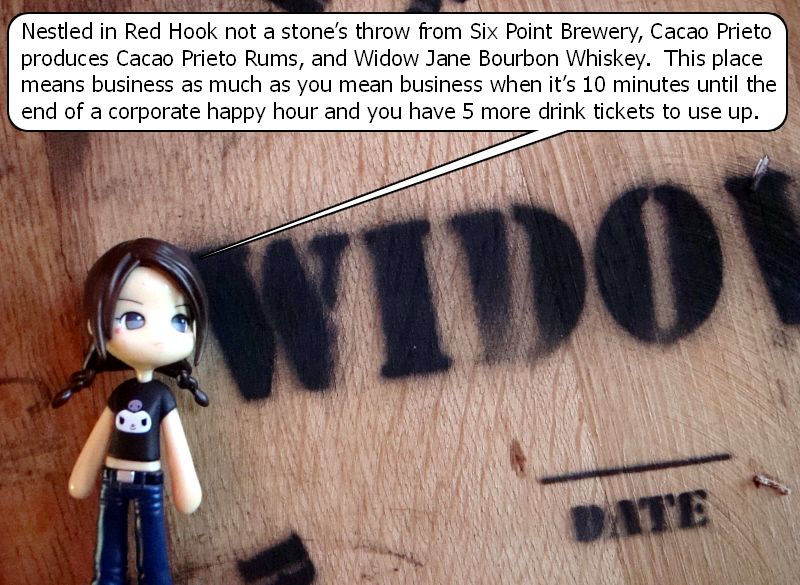 Although not related, Six Point Beer is also right in the neighborhood, so you can make one hell of a day out of this area.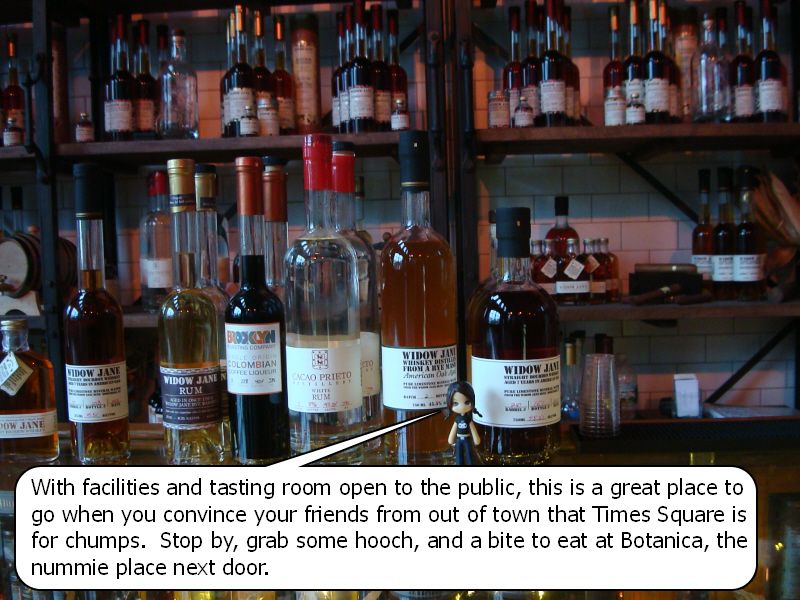 Mind-Brain. It's a thing.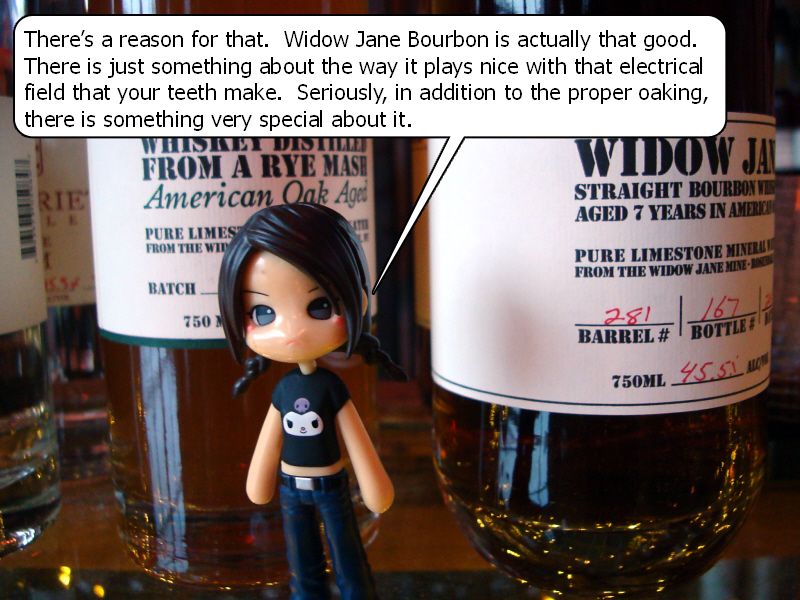 Located in Red Hook Brooklyn (that part where the Ikea is), Widow Jane Whiskey is part of the Cacao Prieto Distillery, and is an amazing place to visit. They are happy to have you stop by for a nibble of chocolate or a sample of their amazing bourbon, or Rye, or Rum, or the Rum, their other Rum ...you get the idea. Their store, which also sells chocolate, and tasting counter at this very kick-ass location is open Tues-Fri from 11am-5pm, and Sat-Sun 11am-7pm (because fuck Mondays). Tours are offered for $10.








Next door (basically in the same building) you will find Botanica, a cocktail bar and restaurant with a delicious menu of ...things you eat. We haven't actually chowed-down there yet, but we plan to. Combine a distillery tour with some dinner at Botanica, and finish with a walk on the scenic Valentino Pier just around the corner, and you've had a great day out in a quiet part of Brooklyn that hasn't been ruined by tourists yet.

You can track all the locations down from their contact-us page on the Widow Jane website.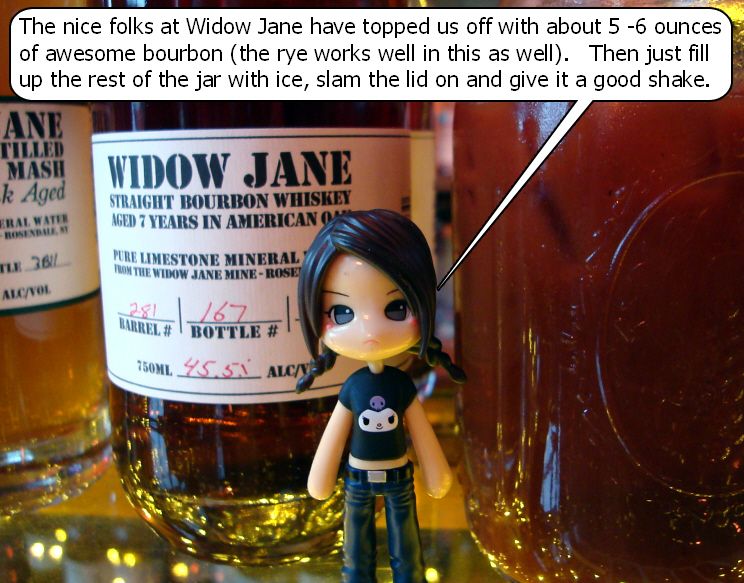 Now, with any high quality bourbon, there are going to be trepidations regarding sending it into the swimming hole where the alligators of fiery bloody cocktail territory with nothing but a pair of water-wings. That's true, in practice, Widow Jane is best had neet or maybe on the rocks. The vanilla (and sometimes even cocoa) notes are still in there, but when it's in some scorpion stinger juice they're tough to pick out. The thing is, you don't need us to tell you that. We could just post a review of what it tasted like to us, but then the only thing that would do is let you know what we think about something you should be drinking yourself. We're here to help provide creative uses for great spirits for when you want to get your friends into them, but they might not be ready to just dive right in to having the double snifter and joining in with some Cohibas out on the terrace or whatever. There is always that fear that the pros and aficionados have when they see amazing spirits enter into cocktail recipe arenas that might mute their full potential.
But fear not, because Widow Jane made the sparks fly, and you just weren't gonna get anything like that with some faceless mass-produced plonk from the bottom shelf of a 7-11 or a bullet proof. Bottom line, garbage in = garbage out, and Widow Jane is quite the antithesis of garbage anything. Pick some up and try it with this recipe, even if you're not hung over. You'll notice that everything looks different from that level of win. We even got a chance to try one of their Heirloom Varietals... we still can't stop thinking about it. If the apocalypse happens any time soon, we're running straight to this place and holding out in there.

It's tough to give a full account of all the Widow Jane offerings because we didn't go the full mile on them, but hopefully we'll be bringing you more content featuring their Bourbon, Rye, and other offerings in the future.
Back to the task at hand, our assembly instructions:
Build in a mason jar:
1) Muddle half a sliced jalapeño in a mason jar.
2) Pour in bloody spice mix to the 4oz line (4 oz).
3) Add tomato juice to the 16oz line (12 oz).
4) Add bourbon to the 24oz line, (8 oz total).
5) Fill jar with ice, close lid and shake to chill.
6) Add more black pepper if desired and garnish.
7) Split this between more than 1 person or come to terms with the fact that you just had 8 ounces of bourbon for breakfast.

Here's a trick to bacon wrapped pretzels. You can buy some pretzel bites, or better yet make your own (it's not hard). Then cook whole strips of bacon by boiling them in shallow water (hear us out). Once they are cooked and soft but with no browning, they will be flexible enough to wrap around the pretzel bites. Once they're all wrapped up and skewered through, you can then finish cooking the bacon with a cooking torch to get it nice and crispy brown now that it's nice and secure on the stick. Tadaaaa. This is also how you should cook oyster crabs. The cheese stuffed olives we just bought from the store.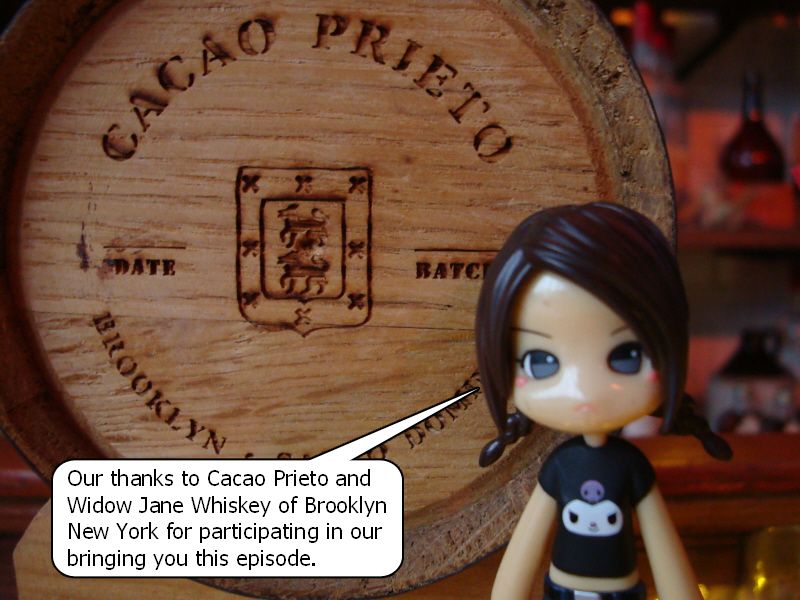 Check them out here.
The Margarita, Revisited.
----