Hot Buttered Rum

,
Rum Toddy
,
and

Koffie Van Brunt
.
As the cold weather descends and some horrible bitch named
Sandy knocks the lights out
, we bring you three and a half hot rum-based drinks to warm even the coldest of sea drenched East Coasters. I'm sure everyone's in a drinking mood, so let's get this road on the show.
First: Hot Buttered Rum
Since your perishables might be going bad with no power in the house, time to use up the butter.
If you do this right, it ends up with a smell slightly reminiscent of cookie dough. It's really nice.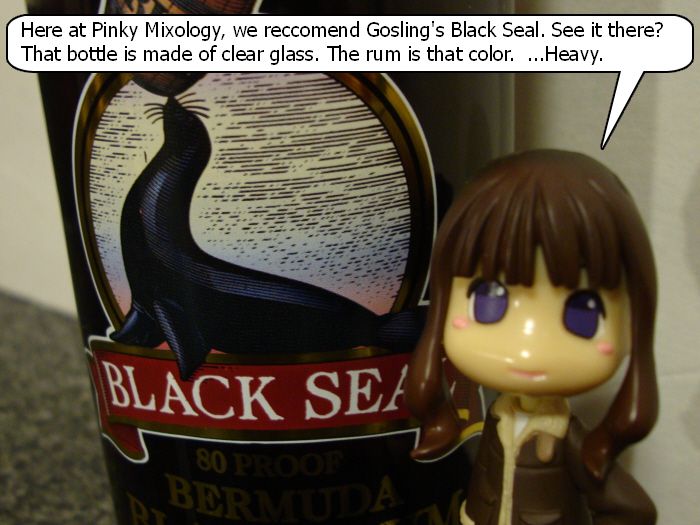 Black rum is not the same as spiced rum, although
Goslings does make a Black and a Spiced rum
. They also make a super-aged rum, but like a 15 year old Scotch, you'd never mix it w/ anything. Just like a dark rum kneecaps a daiquiri or a piña colada, light rum here makes this hit sour notes.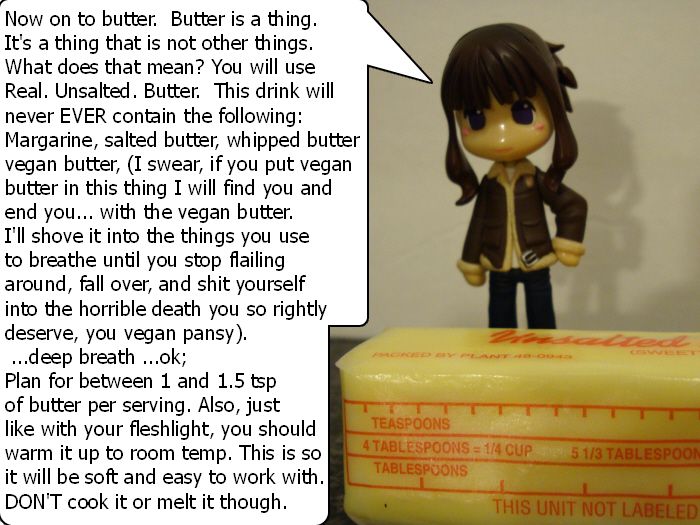 Seriously, anything other than real unsalted butter, and this is gonna be nasty. Make your own butter if you have to.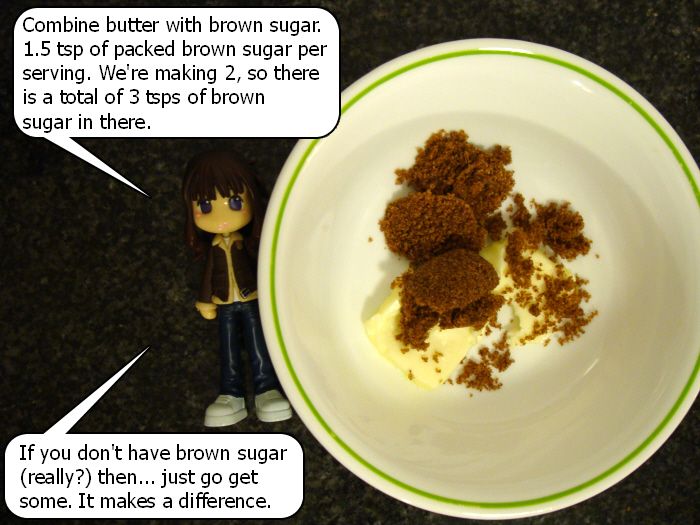 Dark brown is better than light brown, but as long as you don't use that rediculatarded "brounulated" or "sugar in the raw" crap, you're fine. (They have their uses but not here).
The only reason that fake vanilla exists is because there are prohibitionist fucktards out there who think a magical man in the sky will torture them forever after they die if they consume alcohol. Since this is going into a boozy drink anyway, there's no point.
1/8th of a tsp of vanilla per drink is a decent amount. It is very potent stuff.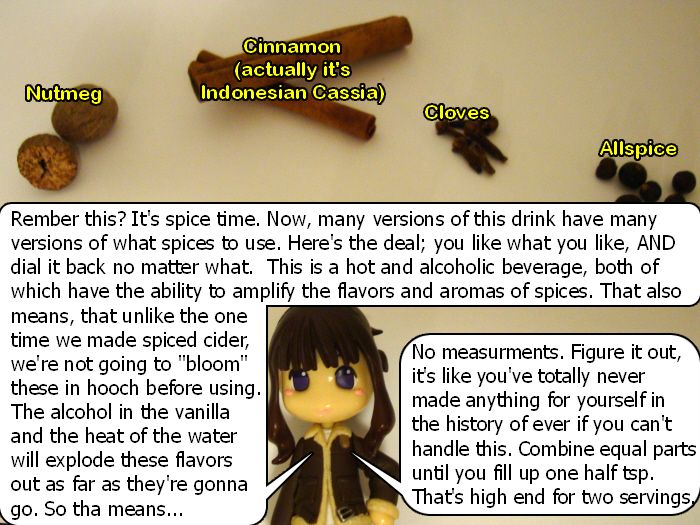 The Spice Must Flow. For the uninitiated:
Nutmeg: a little goes a long way.
Cinnamon: not as strong as nutmeg, but repels water, so watch out.
Cloves: They smell like Christmas
Allspice Berries: A lot stronger than the pre-ground allspice you'd find out there.


The amounts shown are not the final amounts used. And they were ground with
one of these
.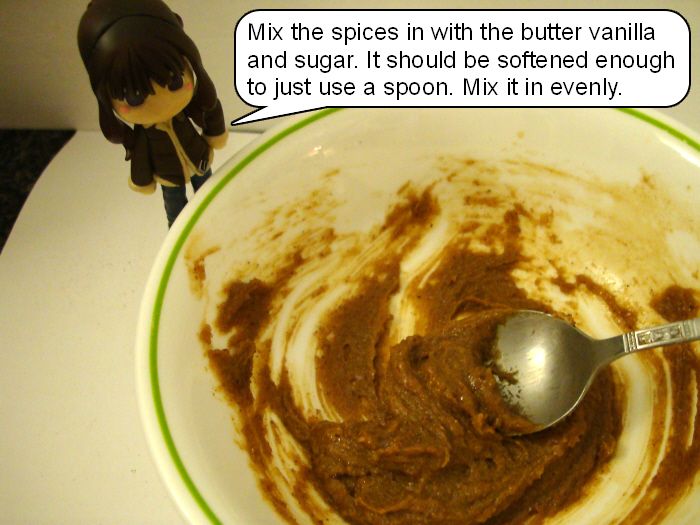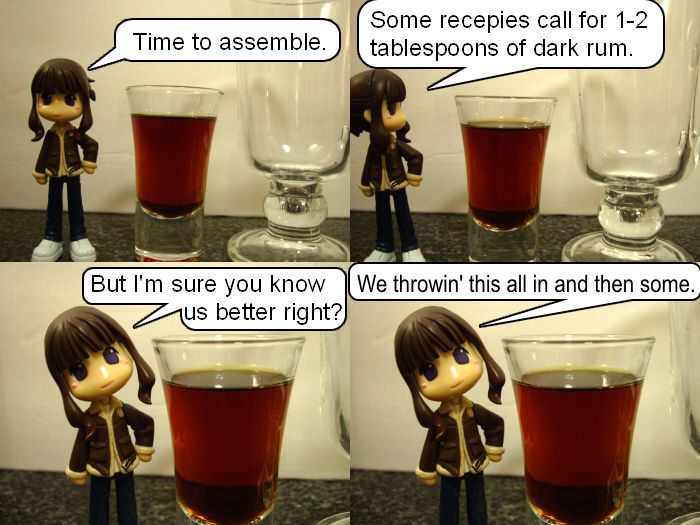 When you are making this drink, you want the butter+spice mixture to be as close to room temp. as possible. If you are making a bunch of this mix in advance, let them warm up naturally (no microwave action) before you make this drink. Otherwise it will be exactly like throwing an ice cube into it and it will cool down before you can touch the handle.
Seriously, it gets in the way, we've added cinnamon already, and it's done only for looks. Now you obviously have to do it if you're trying to impress someone. We haven't done it, so guess where you rank in the scheme of things.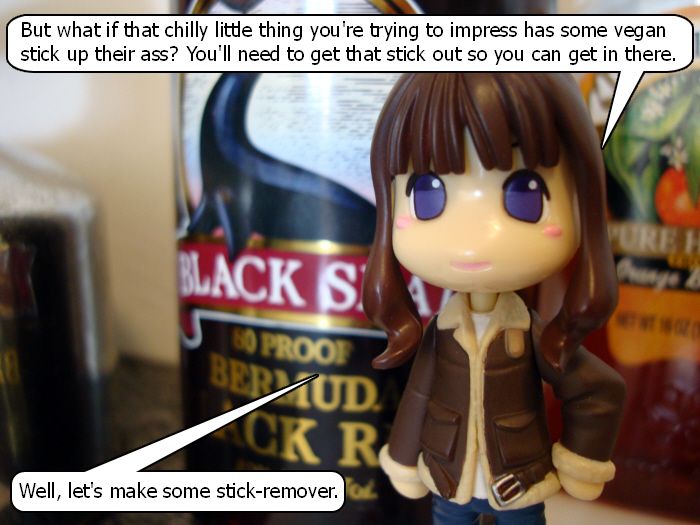 Second: the Rum Toddy.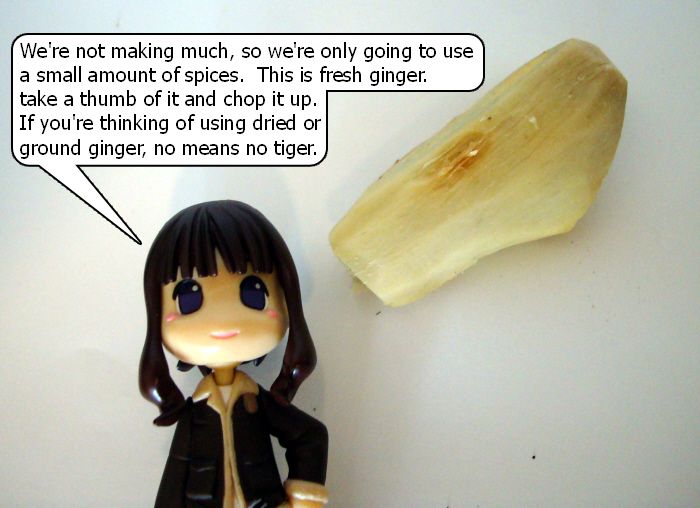 We ended up not even using all that ginger, but most of it.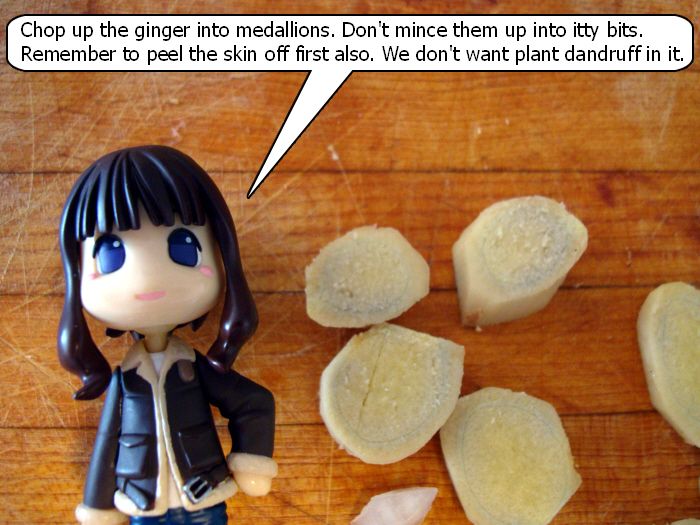 We're going to put these pieces into a bottle, so they just have to be small enough to fit through the opening.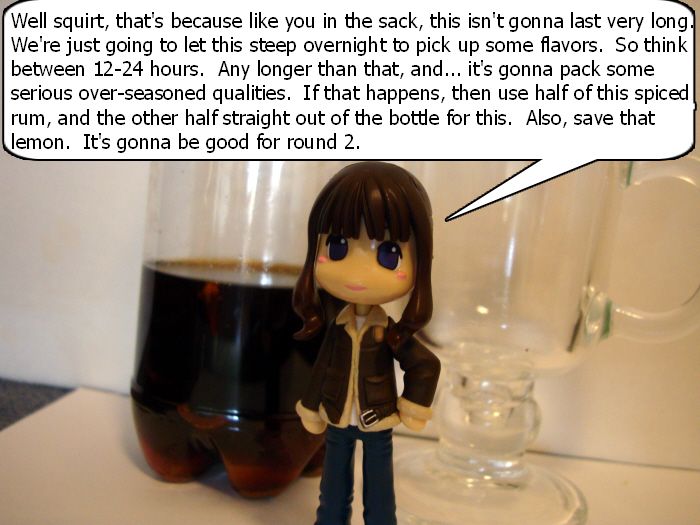 The nutmeg is ground because it has to be, but try to find the coarsest grind setting you have available and use that, because we'll be straining everything out. All the other spices you can leave whole.
STRAIN THE SPICED RUM as you pour it out, or you are gonna have some nasty surprises.
Seriously, I couldn't believe it, but there are people out there who think honey is like... animal abuse or some shit.
It's fine to keep a whole bunch of this warm if you're serving it punchbowl style. Just remember that after a few hours you'll be losing some serious alcohol content as it evaporates at a quicker rate than water.
And now for something completely different: Koffie Van Brunt (sort of)
This seemed interesting, and since it uses dark rum and we've got plenty left, let's try it out.
While coming off as gargantuanly pretentious, this drink served at
Fort Defiance café-bar
on Van Brunt Street in Red Hook Brooklyn sounds good. And since that place is probably still under water thanks to Sandy, you're gonna have to make one yourself if you want to try it any time soon.
We take a few minor liberties with the
official recipe
, and we also offer a variant of Koffie Van Brunt with an Italian inspiration rather than Dutch, but all in all ...shut up and drink it.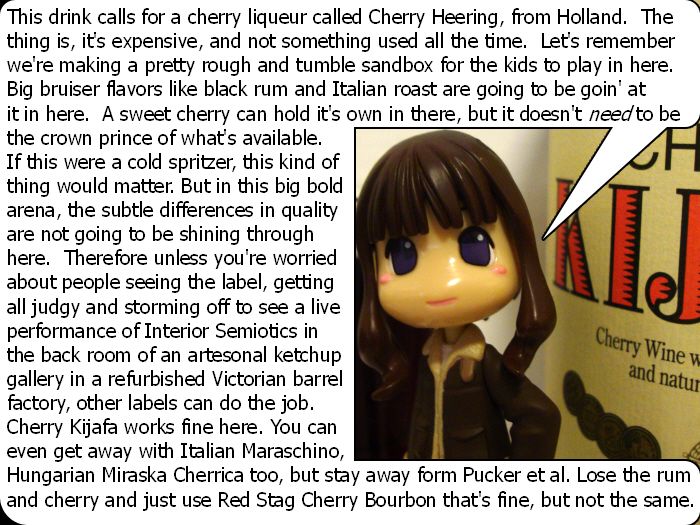 Though if you use
Red Stag
, it's not the same drink any more. It's cherry flavored Irish Coffee for hillbillies.
What you see here is a
Primula PES-6404
stove-top coffee maker, often erroneously referred to as espresso. While the machine does require an espresso grind to function 100% properly (other grinds will also produce drinkable coffee), the machine is quite incapable of generating the necessary pressure of 130.5
PSI
as required by The
Italian Espresso National Institute
(yes that's a thing) and the
Specialty Coffee Association of America
(yeah that's a thing too) in order to be classified as Espresso.
You don't want to make whipped cream here. Don't add sugar or use an electric mixer. Just agitate it a bit until it just gets a tiny bit richer than when you started.
Even the best cherry liqueur can be described as "Robitussin-like" by the underdeveloped pallets of your friends, so it's best to have an alternative available.
In addition to Amaretto, the hazelnut
Frangelico
, dark chocolate
Godiva
, or coffee friendly
Kahlua
, work well here. You can even spice it up with some
Aftershock
.
The dusting here does include coco and cayenne chili powder, and is inspired by the
Jacques Torres "Wicked Hot Chocolate" mix
.
And seriously, don't nuke booze.
We might have taken a few nips on the side during production...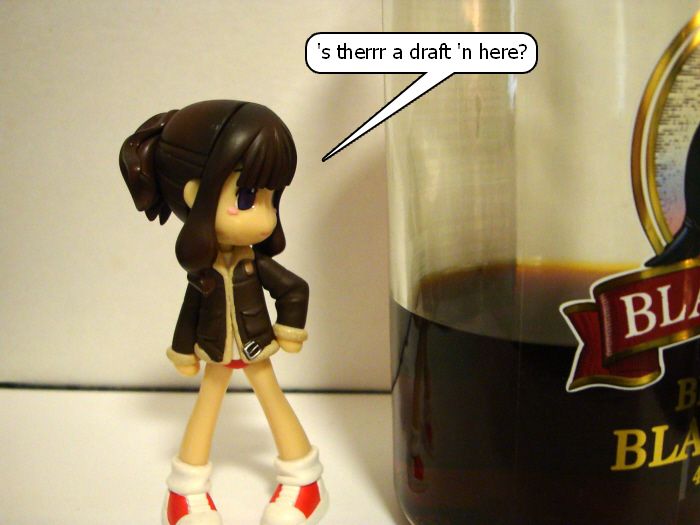 So a word of warning kids, drink too much of this stuff at once and before you know it you are in the navy with no pants.
Thanks for tuning in viewers!
Come back on December 1st for
Gingerbread Cocktails
.
-