Port Morris Distillery Pitorro:
So call it what you want, The Eye of Port Morris, Port Morris Light House, El Ojo, or the Island-Hop, this is a variation of the Hawaiian Eye recipe, using Port Morris Pitorro Añejo rather than Batavia and fresh juices. This is not the one with 7 different kinds of liqueurs, 151 rum, and egg-whites, because that's nasty.
This is an easy to make cocktail, and the recipe itself can be scaled up into a punch for all your friends to enjoy. We'll suggest measurements in a little bit.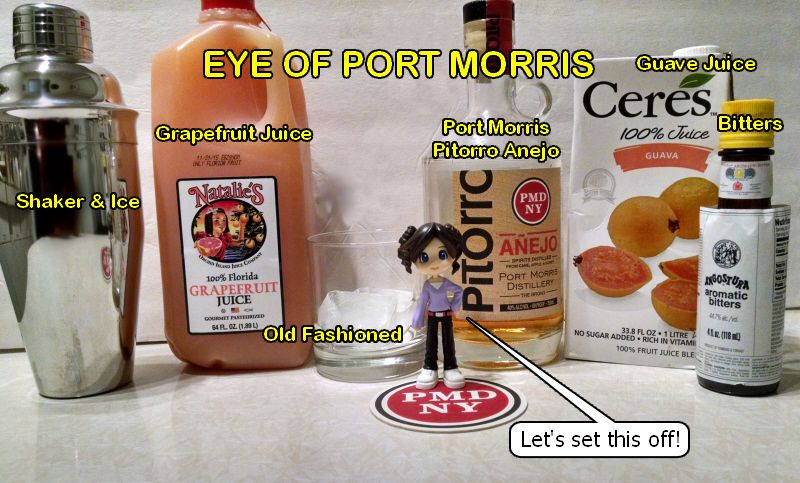 WHAT YOU NEED
Hardware:
Old Fashioned Glass.
Shaker and Ice.
Drink Strainer (if not built-in).
Sip Stick/Stir Stick

Software:
Natalie's Grapefruit Juice (don't try this with anything else, unless you've squeezed it yourself).
Guava juice (or guava nectar it's sometimes called).
Port Morris Pitorro Añejo.
Bitters. If you can, get Hella Bitters. It's worth the bump. But Angostura is ok too.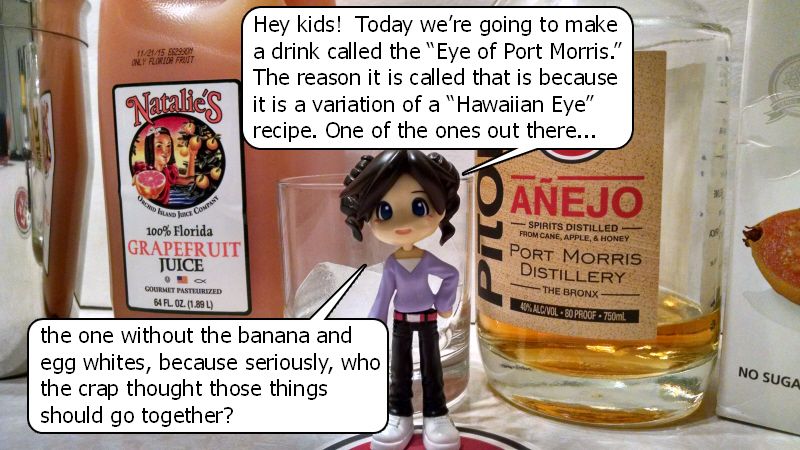 So again, the Hawaiian Eye cocktail has two versions. The apparently lesser known one is the one we based this off of, and is fairly simple. Check out a video of it here. But unlike that one in the video, we add the bitters AFTER shaking, which is important as you will see.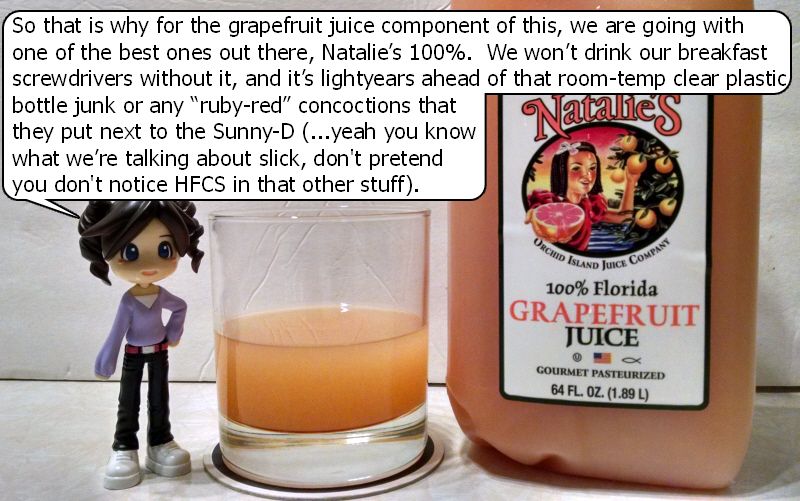 Seriously, Natalie's juices from the Orchard Island Juice company are just great in so many ways. Not over-sweet like so many other red grapefruit brands, they are always fresh, and always great served cold with so many kinds of foods (did you know Tropicana "ruby red" grapefruit has High Fructose Corn Syrup in it? It used to not have that in it).

While we haven't had then chance to try all that Natalie's have to offer, this is the kind of accessible fresh juice that should be the go-to for anyone who takes their drinks more seriously than pouring dirt-vodka into a fruit punch bottle at noon on the L train just past Livonia Ave. They don't do the flavor-packet thing, no added sugars, and they still keep so much of their original fruit qualities that they really do open up when the booze hits them.

Just hunt it down and try it at least once, you'll thank us.

Spaceships are cool.

Ceres is a brand we hadn't tried before. Coming from South Africa, it's the farthest imported thing in here, but after having other brands we thought we'd give the tetra-pack a shot. Ceres Guava delivered and was very nice with a thickness that you would expect from something like guava (guava is kind of thick if you've never had it before... not like maple syrup but more than just regular old orange juice). It's also great to just add to some carbonated water and enjoy as a less sweet but still fruity alternative to lemonade.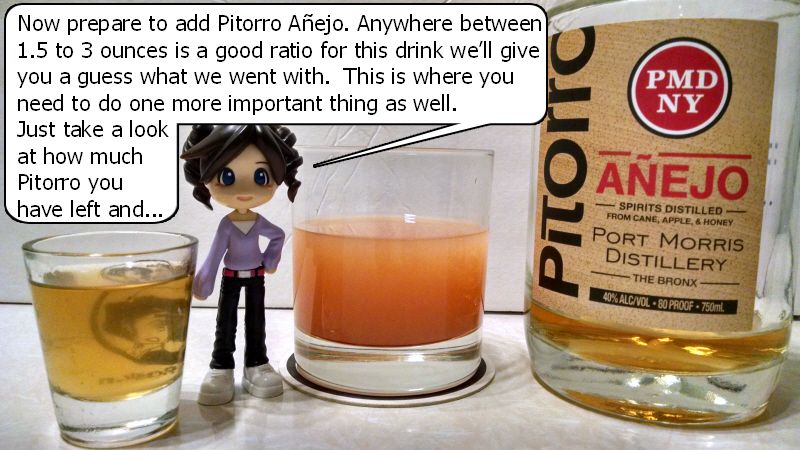 Now DON'T freak out. We shot these in a different order so we didn't go through the whole thing in just 2 goes. Although the
Añejo is much more suited to simply drinking neat, there are still a few other things you can do with it without overshadowing the good craftsmanship of it.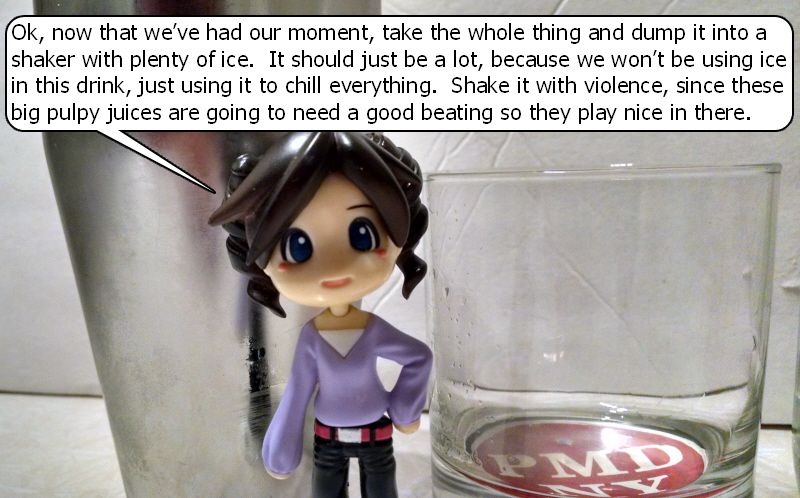 You should use a lot of ice. Unlike other drinks we make like this, this one isn't going to have the ice put back into it. It is not served on the rocks, so the more ice the better, it will cool down faster and minimize getting watered down by melt-water. Remember, don't use ice made out of water you wouldn't drink on its own. If your water is full of sulfur or chlorine, then why would you want that stuff in something awesome like this? You can refrigerate everything before hand, or you can freeze some of the juice and make a smoothie version of this in the blender.

Yep, we banged up our backdrop something fierce. If you would like to support Pinky Mixology, please email us and we'll tell you where to send the $2 for us to get a new one.

So with the bitters splashed on top, all Tequila Sunrise style, you get two dimensions to the same recipe. You can sip it from the bottom and try it before the bitters get all in there, then you can mix it up and have them all in there doing their thing and all that.

We're actually thinking that "Port Morris Light House" sounds good, we were going to call it "El Faro" (The Lighthouse... but totally in Spanish so it sounds exotic and all that marketable stuff). But we learned that the El Faro was a cargo ship out of Jacksonville on route to San Juan that sank with all 33 hands aboard on Oct 1 2015 in Hurricane Joaquin. So we're not gonna call it that.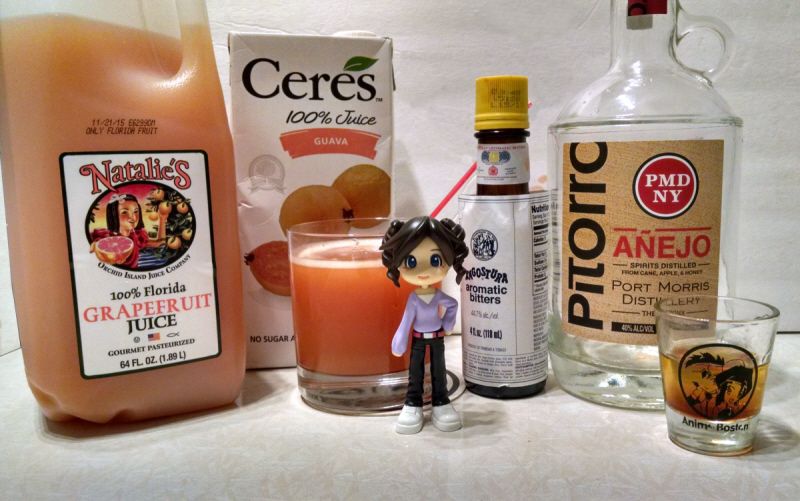 This recipe is probably the most extreme we would get with the Pitorro Anejo from Port Morris. The extra dimensions in the aging process are still not lost with these great juices, and they bring their own profiles in without displacing the Pitorro's oaked notes. If we used mass-produced stuff, it probably wouldn't have been as good, so make sure you go all the way on this one.

Like we mentioned earlier, being a simple recipe with fruit juices, this can make a great punch for gatherings and parties... or if you just want to fill up that 3 gallon water jug you keep in your fridge.

FOR PUNCH:
Take 2 jugs of the Natalie's (or a whole gallon), 1 container of the Ceres Guava, 2 bottles of Port Morris Pitorro (probably either one would work in this case), and half a bottle of bitters. Optional are cinnamon sticks, or orange peels with cloves in them for that tropical holiday feel. And remember to use the same ice trick we used in our Watermelon Margarita Punch.
NEXT:
SAN JUAN SAMURAI